---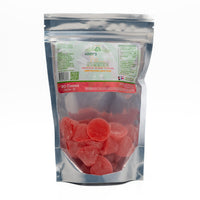 Delta-8 25mg per Gummy / 10 & 30 ct 
We have formulated a hemp extract gummy for human pleasure. This is another delectation from the cosmos that has a elevated yet lucid flight plan. Our take on Mountain Freash Standard and the information we have received from above, has introduced us to a parallel plane that consists of hemp derived elixirs.
Suggested Use: Ingest 1/2 a gummy or 1 gummy. (or as desired). 
Warning: These particular gummies are not heat resistant, and may melt into a singular gummy portion that makes exact dosing difficult. If your gummies have arrived melted we recommend freezing the gummies for 30 minutes, and then cutting into equivalent squares.
Ingredients:  Strawberry Extract, Water, Citric Acid, Glucose, Pectin, Sugar, Gelatin, Hemp Derived Extract (25mg)
 
Our oil, and extracts is then analyzed by a top-tier university and several third-party laboratories to ensure that we are providing fresh natural materials.
"These statements have not been evaluated by the FDA. This product is not intended to diagnose, treat, cure or prevent any disease. Do not use if pregnant, or nursing. If adverse reaction occurs, stop use of product and consult your doctor".
Delta 8 THC Edibles Legalities
Delta 8 THC is legal according to federal and many state laws if the active THC (delta 9 THC) is under 0.3%. Abby's Angel's Delta 8 gummies are derived from federally legal hemp and do not contain more than 0.3% Delta 9 THC. We retain the right to not ship to any locations where local laws conflict with the 2018 Farm Bill and we are not responsible for knowing whether this product is legal in your area of residence. By purchasing these edibles, you assume full responsibility for all parts pertaining to your purchase.
*There are no long-term, definitive studies on the effects of delta 8 THC. Everything mentioned above or that follows is based on firsthand user experiences with delta 8 THC and is provided for informational use only. It is not medical advice, and High Life delta 8 THC edible are not to diagnose, treat, cure, or prevent any diseases, conditions, or any other condition. Individuals may have their own unique experience. We do not suggest in any way, shape, or form, that your experience will be the same. Customers have reported effects similar to Sativa products, with feelings of clarity. Customers have also said Delta 8 THC is almost as potent as normal THC products. Again, these are customer comments only and your experience may differ.
We do not have sufficient data to say anything definitively, but delta 8 THC may trigger many drug tests looking for delta 9 THC. As a precaution, you should not take this product if you need to pass a drug test.
Due to Delta 8 THC either being illegal or not explicitly legal according to state laws, this product may have restrictions in some states. Federal laws allow this product to be sold, but you should know your local laws before purchasing.